JOE D'AMICO owns and operates All American Sports in Las Vegas, Nevada. A third generation Race and Sports personality, his father and grandfather are revered in horse racing industry. Joe started in the business at 10 years...CLICK HERE!

TONY KARPINSKI has won several handicapping contests especially in football, as he finished in the top 10 in the renowned NFL Las Vegas Hilton $500,000. Super Book Contest. TonyK is the former odds-maker at... CLICK HERE!

CHIP CHIRIMBES is a Las Vegas legend and a pioneer in the industry. He's been consistently picking winners for over 30 years. The New York Times referred to him as 'The Handicapper'. Now you can access the best in the biz...CLICK HERE!

JIM FEIST Jim Feist is the recognized leader in the sports information and sports gaming industry. For more than 30 years his acclaim has become unparalleled, with numerous wins in prestigious handicapping contests...CLICK HERE!

JORDAN HAIMOWITZ Jordan is among the worlds best handicappers. Known for his extensive profit margins and winning streaks, he provides some of the most precise and detailed information you will ever see...CLICK HERE!

ROCKY ATKINSON I use my own unique power ratings for each sport along with trend analysis, stats and line value. I take a different approach for every sport I handicap...CLICK HERE!

BEN BURNS burst onto the sports betting scene in the 1990s, first making his selections available to the public in 1998. Now entering his tenth year...CLICK HERE!

MATT FARGO is becoming recognized as one of the best and most consistent handicappers in the world. He has been handicapping professionally since his college days...CLICK HERE!

DOC'S SPORTS was started back in 1971 and is one of the few handicapping services that has withstood the test of time. To this day, this is still a family-owned company...CLICK HERE!

TONY GEORGE, President and CEO of Midwest Sports Consultants and Sports Audio Shows, is one of the most consistent and most respected handicappers in the sports gaming world...CLICK HERE!

CARLO CAMPANELLA is a professional sports and horse racing analyst who knows about winning. Not only has he won several handicapping contests across the country, he has held some of the most prestigious positions in the gaming industry...CLICK HERE!

JIMMY BOYD of Locksmith Sports is the most consistent handicapper across all major sports that the industry has to offer...CLICK HERE!

SEAN HIGGS has been crushing 'The Man' since the early 90s. If you are trying to beat the sportsbooks with stats, trends, and angles you are not going to have a lot of success if you do not know how to apply them...CLICK HERE!

KYLE HUNTER is a handicapper with a great amount of experience breaking down the game in every single manner possible. Kyle's plays have only been available to the public for four years now, but in that short amount of time he has racked up some major accolades...CLICK HERE!

ROB VINCILETTI is the Founder of Golden Contender sports,he is a sports wagering broker, known and respected nationwide for his no nonsense approach and work ethic...CLICK HERE!

TOM STRYKER is a professional handicapper at Team Stryker Sports since 1984, Tom Stryker offers you 25 years of experience...CLICK HERE!

VERNON CROY is one of the most reputable sports Handicappers in the World and he has been very consistent at making his Clients money throughout his prestigious career in all Major and Minor sports...CLICK HERE!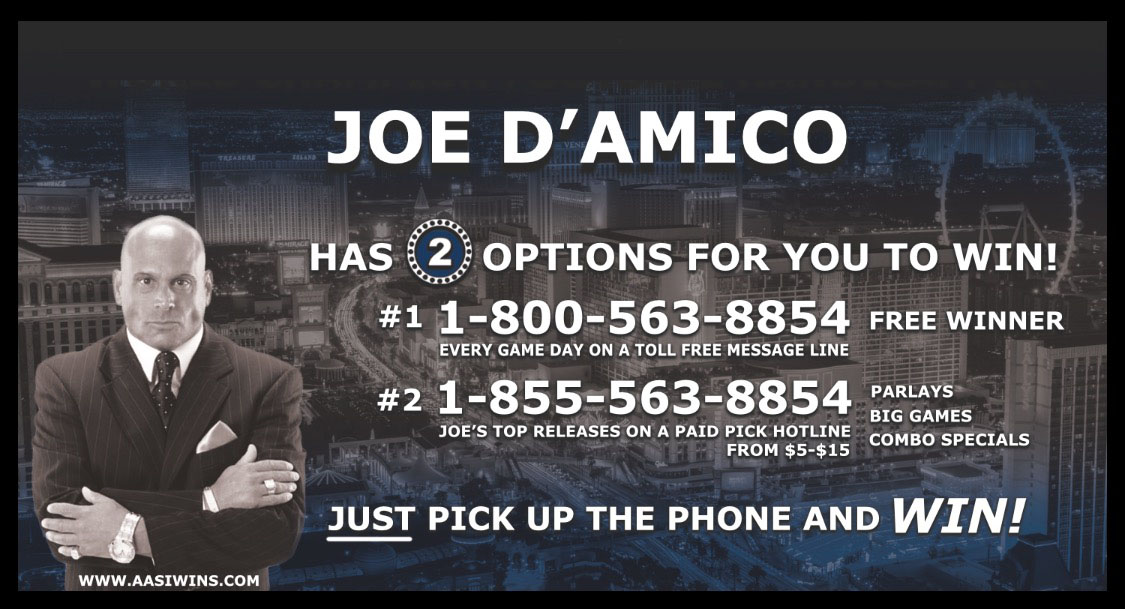 Our Free Sport Picks Are Where the Winning Starts
Our free sport picks are still the best way forward in order to get you started betting with AASI. When betting sports the two most important factors are knowing everything about all of the players in whatever sport you are betting and then knowing everything else about the sport, as well. At AASI we have you covered! When you have been handicapping as long as we have, you simply live, eat, think and dream sports. Then, at one point, you recognize that a significant percentage of your regular clients find you via your ongoing free sport picks, so you concentrate even more of your efforts on providing winning free sport picks.
The more options a sports handicapper offers in making available free sport picks the better and more chances new clients have to test his skills and establish a track record via that handicapper's free sport picks. One of the best ways that will give the handicapper an edge in obtaining new clients is offering more winning free sport picks. So while giving away winning picks may seem counter productive to advancing a sports handicapper's following, it is often actually one of his most productive ways of growing his business.
It is important to note that free sport picks can be used in any number of ways by a potential client. The sports handicapper who thinks his followers simply bet several of his free offerings and then bet additional ones if the first picks win, has likely underestimated his follower. Many smart determined bettors check out numerous handicappers free sport picks over time before ever betting a single selection from any one of the handicappers they are evaluating. In effect, they rate numerous handicappers on their own, thereby accumulating an ongoing winning percentage from each of their free sport picks and only eventually buying picks from the top ones.
So, just as a sports handicapper has to do his due diligence studying quarterbacks and point production of an NFL team in order to pick the winners. He also spends time evaluating floor general capabilities of his top NCAAB picks and pro NBA teams on a regular basis. Similarly, the savvy sports bettor often studies many sports handicappers before settling his bankroll on any one sports handicapper's picks. Thus, consistent winning percentage in delivering free sport picks is every bit as important as it is in offering paid sports picks.
At AASI we regularly win among the highest percentages of our overall sports betting picks because sports picks are what we are all about, all of the time. We do not separate our paid picks from our free sport picks by quality, every pick we offer is our best effort at helping you win. If you give us a fair evaluation you can bet we will consistently deliver the win percentage you are looking for and provide the winning edge you want in whatever sport you are betting. AASI equals more winning free sport picks and more overall winning sport picks over time, no matter what sport you are betting. Do yourself a favor, check us out today!